Introduction
Cherry blossoms in spring, fresh greens in summer, orange and red leaves in autumn, and snowy landscapes in winter; each season is beautifully portrayed in Aizu Region, Fukushima Prefecture. Harataki is located in "Higashiyama Onsen", a historical hot spring village found approximately 1,300 years ago by an eminent priest by the name of Gyoki. Harataki is one of the few hot spring inns in Higashiyama Onsen with a private spring source. Please relax your body and soul in our quality hot spring, and enjoy our "Washoku (Japanese Cuisines)", a UNESCO Intangible Cultural Heritage.
Aizu-Wakamatsu City is a popular tourist destination with a variety of historical spots, such as Bukeyashiki (samurai residences), Nisshinkan, and Oyaku-en. Japanese Sake brewed with the rich natural resources of Aizu-Wakamatsu has many kinds, all of which have a very high reputation. Some sake breweries welcome visitors for study tours as well. Go a little further to explore areas with traditional landscapes and historical buildings of Japan, such as Lake Inawashiro, Urabandai, Ouchijuku, and Nishiaizu.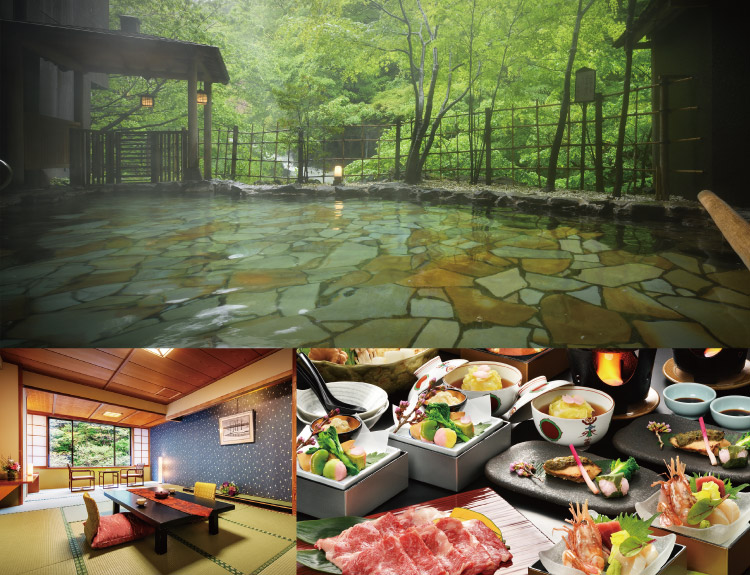 Cuisine
"Enjoy Aizu Region's delicious Japanese cuisines!"
Cooked by our skillful chefs with a variety of fresh, seasonal ingredients and seafood along with various local ingredients, our cuisines not only taste great but look great.

There are two dining venues at Harataki.
Standard dining venue "Dining Takigawa" and summer-limited "Waterside Dining Kawadoko".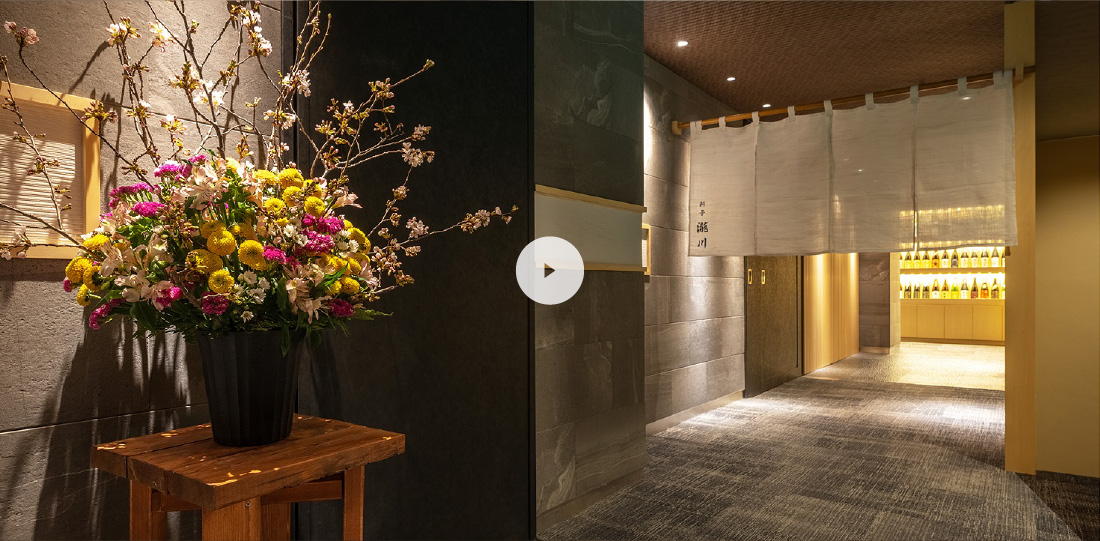 Dining Takigawa
A dining venue with a modern Japanese atmosphere.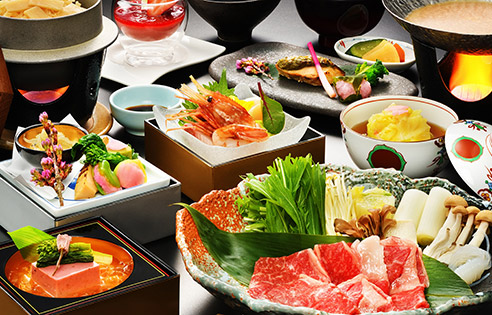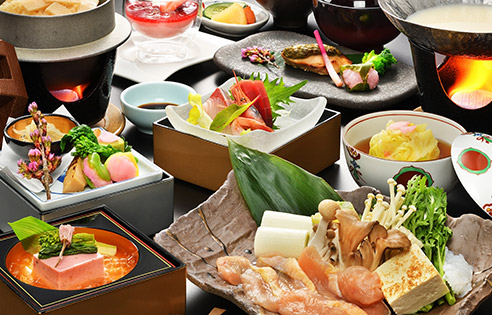 Set of dishes
4 ~ 5 seasonal dishes including an appetizer, sashimi and a hot pot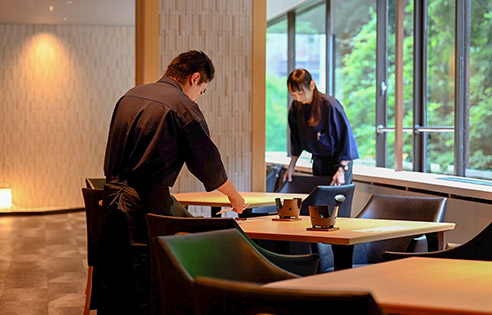 Mini buffet
various dishes, salad, soup, and small dishes that match perfectly with sake and rice of Aizu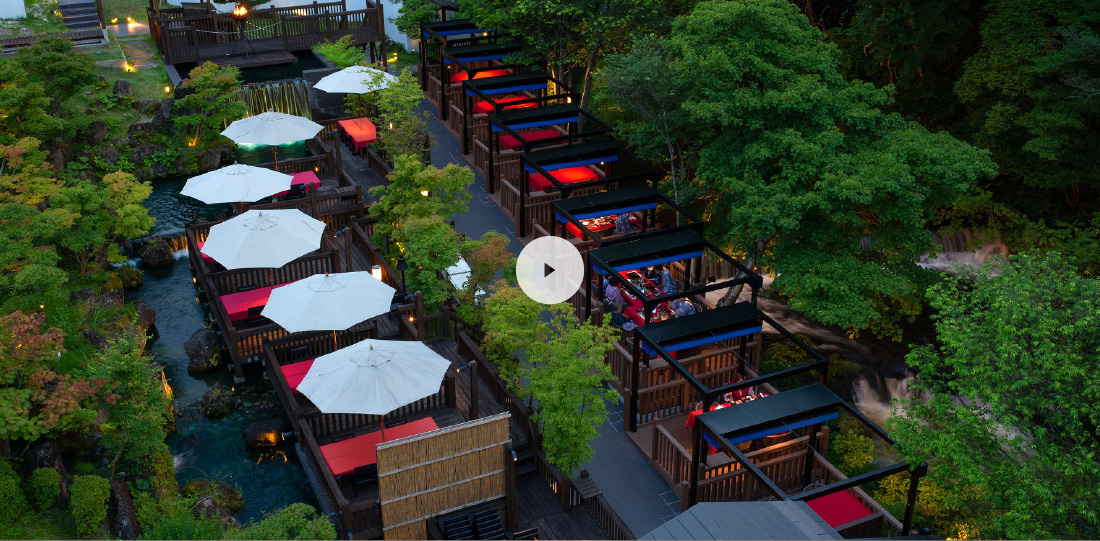 Waterside Dining Kawadoko
An outdoor dining venue that is open from May until September.
An outdoor dining venue surrounded by the rich nature of Aizu with a gorge and a clear stream flowing nearby.
Enjoy the ever-changing beautiful landscapes as you smack your lips over "Kwadoko Special Japanese Cuisine".
Open hours
April 20th ~ October 31st
Dinner
April 28th ~ September 30th
Lunch
April 20th ~ October 31st
*Open only on weekends and holidays in October
*Reservation necessary
Please enjoy local sake of Aizu with our Japanese cuisines for dinner.
◆If there is any ingredient you are allergic to or do not eat due to religious reasons, pleat lease let now in advance to your visit.
Hot Spring
We draw hot spring to the open-air baths from our private spring source.
Guests can enjoy the beautiful seasonal landscapes of the nearby gorge and the sound of the clear stream flowing outside.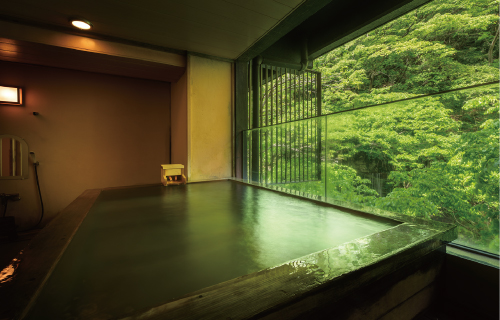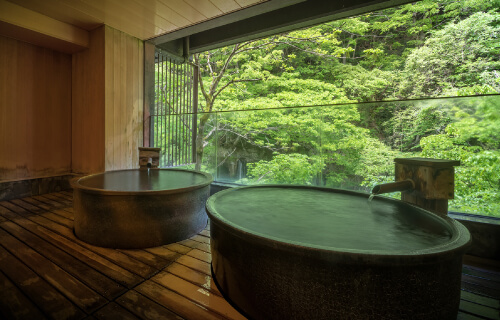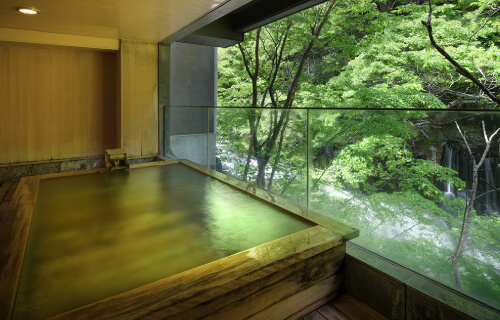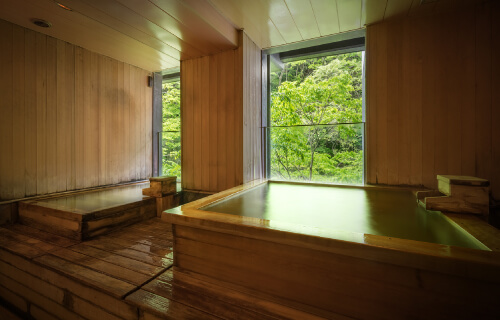 We highly recommend you to make a reservation for our "private panoramic bath" if you want to enjoy bathing privately.
You can enjoy bathing freely without interruption.
Includes four unique baths. 50 min. / ¥2,000 (tax excluded)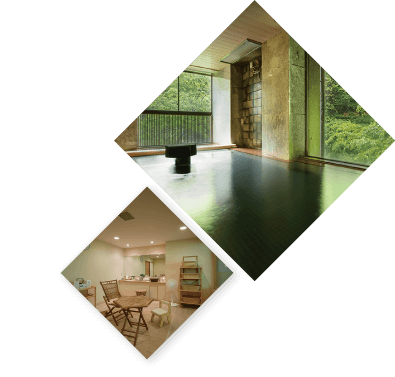 How to be a master of Japanese hot springs!
How to bathe in a hot spring
Wash your body thoroughly before entering the bathtub.
If you have long hair, tie your hair and bathe in the "beauty hot spring."
Refrain from rubbing your body in the bathtub and relax.
Put your towel on your head and keep it away from the bath.
It is very dangerous to run around on a wet floor.
To Customers with Tattoos
We ask guests with tattoos to refrain from using our open-air baths and large baths for other guests may not be comfortable with tattoos even if the purpose may be for fashion or religion. We thank you for your understanding and apologize for causing any inconvenience.
The private panoramic bath is available for guests with tattoos.
hot spring manners
Accommodation
Japanese style rooms with tatami mats. Non-smoking floors and smoking floors are separate.
Please choose a room type that best suits you.
Rooms
with a panoramic bath
(private spring source)

A luxurious room with a "panoramic bath" made of Aomori Hiba trees guests can bathe in freely whenever they want. (View: gorge side)

Regular Rooms

Facing the gorge outside, guests can relax as they listen to the sound of the clear stream down below.

Japanese/Western Style Rooms

A room with a Japanese style room and a bed room equipped with a twin bed. (View: street side / non-smoking rooms only)
Room amenities
Please refrain from taking room amenities out of the hotel.
Facilities
Free Wi-Fi is available in the lobby and all guest rooms within the facility.
They sell a variety of items, such as "Aizu Lacquerware", local sake and various souvenirs.
Nearby Tourist Spots
Tsuruga Castle

Tsuruga Castle originated from a building called Higashikurokawa Yakata, which was built by Ashina Naomori in 1384. Higashikurokawa Yakata was later transformed into Tsuruga Castle by the hands of Gamo Ujisato, a renowned Samurai warrior who is said to have founded the basis of Aizu Wakamatsu. Ujisato gathered a number of engineers from his hometown, Omi Province, and built a seven-layered castle tower upon the Nozura-style stone wall, which still exists today.
Tsuruga Castle has been a symbolic figure of Aizu Wakamatsu, a city that was ruled by a number of feudal lords and survived the Boshin War. Inside the castle is a local history museum where they exhibit a variety of important historical artifacts and documents. From the observatory deck located on the top floor, visitors can get a panoramic view of Aizu, Mt. Aizu Bandai and Mt. Iimori.

Sazae-do
(Important Cultural Property of Japan)

Sazae-do is a 16.5 meter-high three-layered hexagonal temple located in Mt. Iimori with a double helix slope in 1796.
The temple was built in the form of a double helix slope, and, it has a completely different route up and down. It is a one-way slope, thus, visitors never pass each other. It was designated as an important cultural property of Japan for its rare architectural style that is hardly seen in the whole world.

Aizu Samurai Residences

Aizu Samurai Residence is an entertaining museum that consists of "History Exploration Zone" where the house of Saigo Tanomo (an officer of the Aizu domain), the old Nakahata Jinya, tea house, rice-mill, and Aizu History Museum are located, "Local Specialty Shop KOKON" where they sell various items of Aizu and Fukushima, and "Restaurant Kuyotei" where they serve various local dishes of Aizu.
Kitakata

Kitakata is famous for its warehouses, Ramen, and paulownia crafts. Kirakata Ramen is popular even outside of Japan.

Lake Inawashiro

Lake Inawashiro is the fourth biggest lake in Japan located in the center of Fukushima prefecture. On the lakeside, visitors can enjoy swimming and camping.

Urabandai /
Lake Hibara /
Goshikinuma Lake

There are approximately 200 to 300 lakes and marshes, such as Lake Hibara and Goshikinuma Lake, at Bandai Asahi National Park. Fresh greens and autumn leaves always attract tourists. Bandai Asahi National Park is a perfect place to escape from the scorching weather in summer and to enjoy skiing in winter.
Access Information
See larger map
Pickup

If you call us, we will pick you up from the bus terminal Higashiyama Onsen Station and the hotel.

Free Parking Lot

Free parking lot with the capacity of 100 vehicles!
Reservation